RAVE Sports Pontoon Slide Review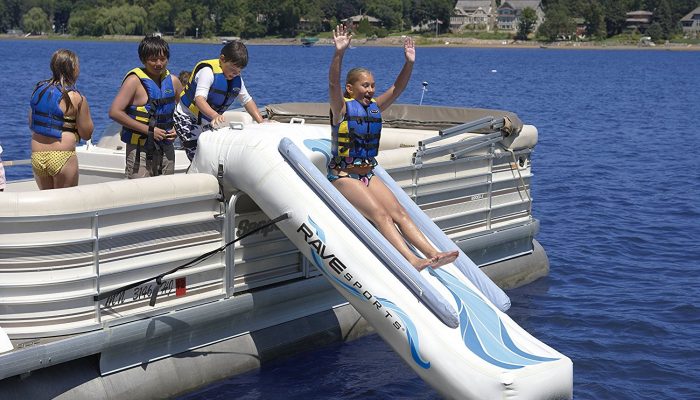 A perfect boat slide is an ultimate key to maximum fun. Treat your family and friends to a day out on new fun and laughter with the RAVE Sports 00001 Pontoon Slide. The slide is among the top-rated boat slides in the Slides market mainly because of its ability to inflate quickly and without much trouble.  The Pontoon slide inflates in about five minutes only, and returns provide many hours of fun and excitement. Additionally, people of ages can use the RAVE Sports 00001 Pontoon Slide since it is comfortable and fun too.
The commercial grade slide is rugged in nature and features a sliding surface of approximately nine inches. The surface is thus big enough to accommodate individuals of all sizes. Additionally, the Pontoon Slide has a two-slider air chamber set at the center as well as four-inset footsteps featuring a perfect molding. Additionally, the slide has vinyl assist handles with a complete and perfectly done welding at the top. As a result, the Pontoon Slide has everything an individual requires to get into the water with a fun splash and be safe at the same time. When you are done having the time of your life with your friends, you just deflate the slide and roll it up to ease storage.
Since the slide is compact and lightweight, it does not take up much space. You can easily store it under a seat or the back of your car or even under a cooler. The slide rolls down to the size of a standard sleeping bag. RAVE Sports 00001 Pontoon Slide comes with a complete 12-voltage gif pressure inflator and deflator pump, which can run off pontoon battery.  Furthermore, it is rather easy to deflate and inflate.
For the slide to give the maximum level of comfort, fun and support, and safety, it requires a minimum of five inches of water depth. The RAVE Sports 00001 Pontoon Slide measures 120 inches by 25 inches by 68 inches after inflation.  A double slider-centering radio frequency and welding air chambers add the weight of the equipment to fourteen kilograms.  
The inflating and deflating of the seam chambers is trouble-free because of the Halkey Roberts spiral valves. Additionally, the side valves feature a well-equipped stem valve for extra support. The pump also features adapters for the deflation and inflation valves. For ease of storage, the RAVE Sports 00001 Pontoon Slide is compact and can fit the size of a medium sleeping bag.  You can purchase the RAVE Sports 00001 Pontoon Slide here.