Top 5 Ronix WakeSurf Boards for 2019 Reviewed and Compared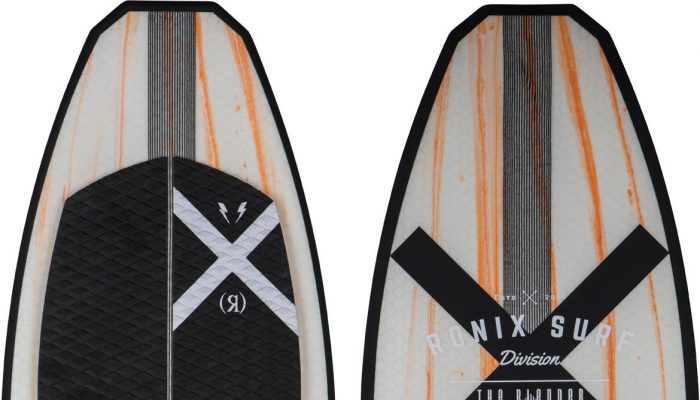 As pontoon fanatics, we also love other watersports!
Wakesurfing is one of the fastest growing sports in the world. It is gleaning attention from all around the world. However, choosing the best wakesurf board isn't easy. We have limitless options, with different styles and shapes, which can baffle us completely.
It is exciting to see different styles of boards that people are buying to have ultimate summer experience. But, today, we are going to reveal top five Ronix wakesurf boards for 2019. These wakesurf boards from Ronix aren't just for a beginner or larger and heavier riders; they are for professional surfers as well.
They compliment both genders and all levels of skills.
Ronix Hex Shell – Blender Wake Surf Board
If you want ultimate power and control in wakesurfing, opt for 'Ronix Hex Shell Blender Wake Surf Board'. It became an instant hit as it hit the market
This blender wakesurf board has a power tail inspired design, which is more aggressive through an edge and responsive too. It also gives a lot of push for speedy acceleration.
It also provides added hold in the waves for sharp bottom turns.
According to Ronix manufacturers, if your weight is in the middle of this board, it will ride much like a longboard.
The overall ride would be smooth, stable, and with tons of push.
Furthermore, there are technologically advanced fins, which you can set in a few seconds. They facilitate in fast edge to edge transfers and deep bottom turns.
On the whole, the Ronix Hex Shell Blender Wake Surf Board has a much faster, lighter, and durable design that suits almost all styles of wakesurfing. Even if you are an expert and professional surfer, its advanced core construction will take your ride to new heights and allow you to win competitions.
Ronix (Blemish Model) Hex Shell Wakesurf Board
This Ronix (blemish model) Hex Shell Wakesurf Board is specifically designed for high-end performers. Ronix manufacturers have introduced most responsive material in it with a sharper rail, bevel, and bottom channels.
Because of its machined EVA concave pads with arch support and extra tall back end, you have high-speed maneuverability.
It makes the board ride higher on water as well.
This wakesurf board also has fiberglass cupped asymmetrical fins that improve directional stability of this board on a grand scale. In other words, you have extra mobility and stability in the water. They assist you in controlling the board with efficacy even on rough waves.
Lastly, this model offers a fashionable blue appearance; it complements the beauty of every beach… You surf with style!
Ronix Technora Powertail Wakesurf Board
If you desire added thickness and wide center on your wakesurf board, the Ronix Technora Powertail Wakesurf Board is for you.
When you have power tail with a thick construction and wide middle, you have immense steadiness. You can ride higher in the water than most other boards without a wide profile.
Apart from this, it comes with I-Beam construction which we only find in the high-end wakesurf boards. This I-Beam construction gives a faster and responsive ride. Therefore, it is perfect for those also who are planning to participate in surfing competitions.
Furthermore, it also has Fin-S 2 system (a pop in fin setup). It gives fin a sturdy fit and provides this board more speed and drive while initiating turns.
In other words, you have more control during the tight turns.
According to professional surfers, it is certainly a lighter, faster, and buoyant wakesurf board, but you have to keep it with care too, as it is a tad more fragile than other boards.
Ronix Technora Thumbtail Wakesurf Board
Need fast push feeling and more stability in and out of a turn? Get this Ronix Technora Thumbtail Wakesurf Board. Its smooth edges and overall shape give a classic surf feel.
It is designed for both advanced and intermediate surfers.
The overall design of this wakesurf board features machined EVA concave pads with arch support and extra tall tail kick. It is a full sized thick board construction with a lively Technora core. Just like Powertail Wakesurf Board, its thicker construction is also ideal for tackling all kinds of wakes.
There is the standard thickness in the nose area also, which gives solid contact with the water. It helps in riding on small waves and adds needed steadiness for your quick turns.
However, from the center to the tail, it is a tad thicker than the nose area. This facilitates in delivering more top water speed than most traditional wakesurf boards.
Ronix Naked Potbelly Rocket Wakesurf Board
The Ronix Naked Potbelly Rocket Wakesurf Board is an utterly new concept for the wake surf industry. Its rails are hard with arc support and tall tail kick.
This wake surf board offers a unique riding style which is more like a traditional board with tip up. It is the combination of traditional surfboards and latest, innovative board designs.
Its Naked Technology is actually a minimalist construction. Unlike other surfboards, it is without any kind of fancy graphics or sparkle. The key aim of this technology is to provide 110% board performance.
Manufacturers of Ronix deliberately avoid all those extra stuff that affect the performance of this board and increase the weight of it as well.
In case you are pondering why Ronix calls it a 'Rocket Wakesurf Board', it is because this wakesurf board is crazy fast. If you want a hard-charging, thrilling, and fast ride, this is for you. The thin tip and tail with thick center increases its speed on a massive level.
In addition, from fast edge to edge transfers to deep bottom turns, its 4.5" fins give you a lot of versatility to relish the ride.
Concluding Thoughts
Ronix is the top and professional manufacturer of the wakesurf boards in the industry. This company's attention to details and use of the high-quality material is exceptional. All these above wakesurf boards are top-rated, easy to ride and great for all riders – from beginners to advanced. You will enjoy high speed, and exceptional precision and maneuverability.