Hunting from a boat is all fun and games until things start to go south. By going south, I mean the water current may change, someone may fall off the boat, or it may start raining. There are a lot of risks associated with operating a boat, and the previously mentioned factors don't even cover half of them. So what safety precautions should you take when hunting from a boat? We've compiled lists safety equipment for boat hunting and boating in general, and discuss safety best practices below.
If you're going hunting on a boat, you'll want to be fully inclusive of the laws governing the topic, so you're not subject to legal issues. On top of that, you'll need to learn about the safety precautions you should take. Any activity done in the water is associated with a lot of dangers.
Not standing on the stable ground is exciting, but it comes with its share of additional concerns. You should know what to expect so that you're fully ready for anything that may come your way.
The safety precautions include staying close to the shore for safety, shooting while seated, and always wearing a PFD. The list can be extensive, and that's what I'm here to cover today. What safety precaution should you take when hunting from a boat? Read on to find out!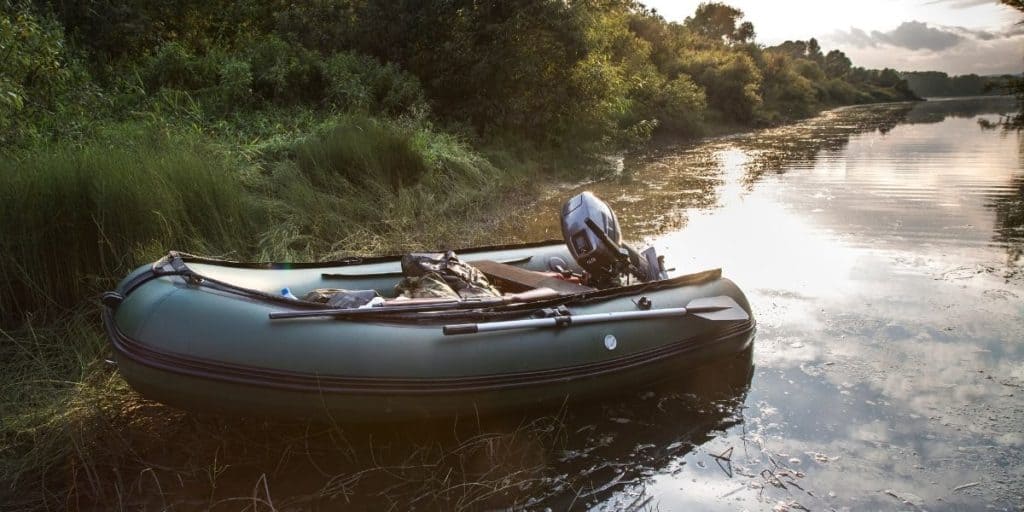 Transporting Firearms in a Boat
A lot of boat hunters don't know how to transport firearms in a boat properly. Dealing with firearms isn't fun; I'll give you that. But if you want to go boat hunting, you ought to learn your way around, and knowing how to transport firearms is mandatory.
Before transporting the firearm, make sure that the action is open. If your gun is more safe being entirely broken down, by all means, go for it. Next, case the firearm.
After you're done with that, place the firearm into the boat's front with its muzzle pointed forward. It should be facing away from the boat's passengers, and your place goes behind it.
Before doing any of that, you should make sure first that it's legal to carry a gun on your boat. Laws vary from one state to another. For example, the same gun that's legal in Florida may not be allowed in nearby states. Therefore, you'll need to check state laws before crossing the borderline to a state where guns on boats are illegal.
The first thing you should make sure of is that you're carrying the proper license for your weapon. Additionally, you'll want to make sure your firearm itself is allowed. Some types are okay, while some types aren't.
Hunting from a Boat: Safety Tips
What should a sportsman always consider when hunting from a boat? The right answer is safety. Going on a hunting trip while not following proper safety tips is dangerous. Here's a rundown of the essential factors of hunting and how to do them safely.
Attire
A life jacket is an essential part of your attire for boat hunting. Everyone on the boat should have one, and it'd be best if they're wearing it all the time. On top of that, don't forget to check the weather forecast for that day and dress accordingly.
Low temperatures in the middle of the sea are the worst if you're not wearing the proper outfit!
Lastly, make sure to wear your protective gear, including eye and ear protection.
Weight Capacity
Overloading your boat is a big no. Before going on the trip, make sure you're staying within the limit of its weight capacity. Not only that, but you'll also want to make sure you're distributing the weight evenly.
Hunting boats mostly come with flat bottoms, so they're at a high risk of tipping over if one side is heavier than the other.
Crisis Management
If someone happens to fall off the boat, make sure they stay clothed, especially if the water is cold. Additionally, let them try and climb back into the boat. If they can't, keep them close, even if they have to cling to the oars, until you can help them.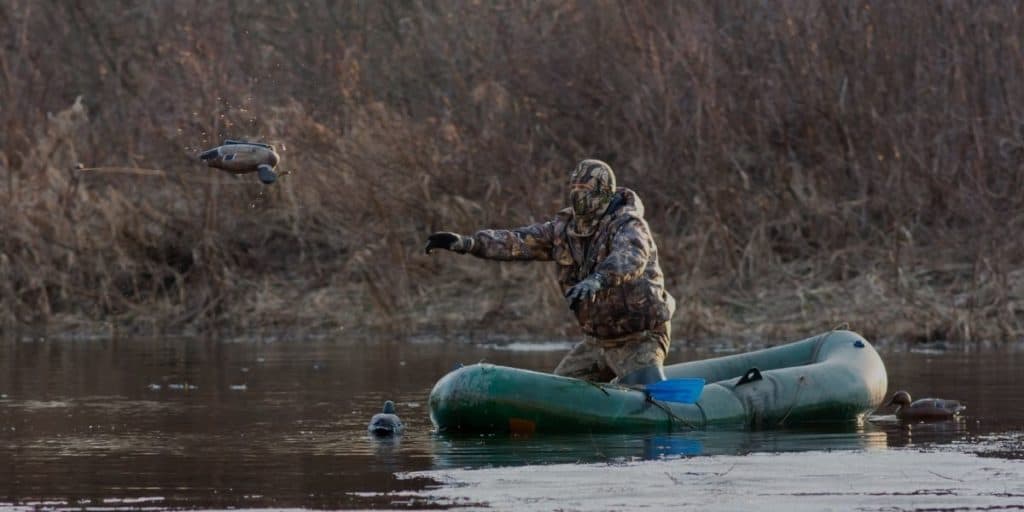 Safety Equipment Checklist
Not that we're done with the general safety tips, there is some safety equipment you should take along on your trip to ensure you're ready for anything. Some of them are mandatory to take, according to the US Coast Guard. That's if your boat's length ranges from 16 ft. to 26 ft.
These items are a fire extinguisher, a whistle, a life jacket for each passenger, a flare gun, and an IV flotation device. Those aren't optional to carry; it's practically illegal to go hunting on a boat without any of them.
On top of the previously mentioned items, there are a couple of laws to follow. For starters, your boat must be registered, which all hunters probably already know. Besides, the navigation lights should be working.
If you've got those covered, here's a checklist of other items you'll need. These aren't obligatory, but carrying them is the best option if you want to ensure a safe trip. You never know when you'll need the dog ladder for your little buddy or a waterproof first aid kit for an injury!
Waterproof first-aid kit
Survival kit
An extra change of clothes
Long-handle paddle
Dog ladder–If your dog is accompanying you
Two decoys
Safety helmet with a spotlight
Rescue tape
Hand-held GPS device
Duct tape
Starting spray
Hunting Equipment Checklist
Now that we're done with the safety tips and equipment, it's time for a checklist of everything you need to carry for hunting. I'll divide the items into basic necessities and things you can do without. However, most of the items are small and lightweight, and it's better to carry everything if you have enough space on the boat.
You never know when you'll need any of the items!
Basic Necessities
Shotgun sling–to keep your hands free
Dog whistle–if you're accompanying your dog
Decoy accessories–anchors, gloves, weights, cord, and bag
Binoculars
Ammunition supply
Push pole–for checking bottom depth when you need to
Fuel stabilizer–to preserve your gas and keeping moisture away from it
Two decoys
Toolbox–include wrenches, screwdrivers, and pliers
Chainsaw–it'll come in handy when looking for ducks
Portable stove–for cooking and heating food
Camouflage motor netting
Nylon rope–for keeping your boat secure to a log
Non-Essential Equipment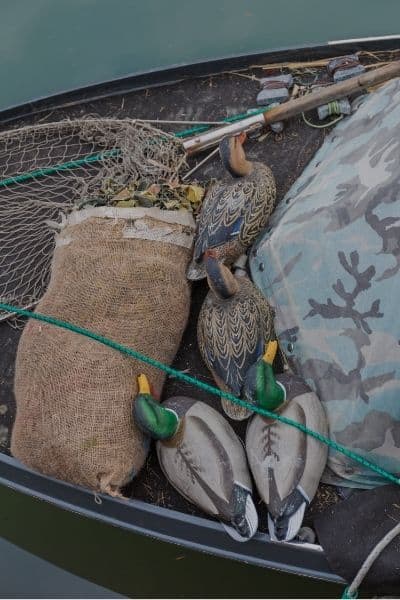 Zip ties
Spare batteries
Multi-purpose tools
Plastic bags
Sunscreen
Sunglasses
Insect repellant
Electrical tape
Lighter
Camera
Ice and coolers
Flashlights
Extra ropes
Conclusion on Boat Hunting Safety Precautions
We hope you enjoyed this article, and found the information helpful for your next boat hunting adventure, or just best practices for boating in general. These lists should provide good inspiration for what makes it onto your own packing list. Some other articles you might enjoy are our reviews on pontoon boats such as the SEAMAX Ocean 320 Inflatable Boat Review, Colorado XT Pontoon Boat Review, Outcast PAC 1200 Pontoon Boat Review, and this review on the Best Pontoon Boat Grill & Mount!