If you are looking to add a little adventure to your next vacation or weekend away, renting a boat on your favorite ocean or lake might be a great option. In this post, we will cover 4 easy steps on how to find and rent a boat on Boatsetter, the Airbnb of boats.
Activities while renting a boat can include fishing, skiing, tubing, wakeboarding, surfing, kayaking, and paddleboarding, you name it. Or, if you're like me, you can simply chill and enjoy the sunshine with a cool beverage. In addition, boats have come a long way with their ability to comfortably host guests for long stays.

Looking to rent out your boat instead? Read our guide on how to list your boat on Boatsetter here.
The great news is that today, you are not limited by the size of the boat, body of water, length of time, or the number of guests. You don't even need to know how to drive it! More on that later. Let's get started with the 4 easy steps on how to find, rent, and charter a boat on Boatsetter.
---
ADVERTISEMENT
---
How Does Boatsetter Work?
1. Search for Your Boat Rental
Begin on the Boatsetter homepage and choose your location, whether or not you need a captain, number of guests, and your dates. If you have the proper expertise and license for the state you are renting the boat, you do not need a captain. In most cases, you will commandeer a pontoon or speedboat while you may need a captain for ocean cruises.
2. Connect With The Boat's Owner and Captain
After narrowing down your boat search to a handful of boat rentals, you will contact each owner to confirm availability and to answer any additional questions you might have.
3. Book Your Boating Adventure
Once you have contacted the boat owner and agreed to move forward, you will book your boat, confirm all fees, including your down payment, and lock in your dates. Boatsetter charges a 10% service fee to the renter. Each boat owner has a cancellation policy and most of them only need 24 hours of advance notice.
4. Set Sail!
On the day of the rental, you will need to bring copies of the following documents with you aboard the vessel:
On-Board Document – This will be emailed to you once you have approved the booking
Check-In/Check-Out – This checklist will be emailed to you with the booking confirmation. This document is crucial for recording the condition of your boat.
How Much Does Boat Setter Charge?
Boatsetter charges a 10% service fee to boat renters in addition to what the boat owners charge. This is for the convenience, the customer service, and the use of their site to connect owner and renter.
Where Does Boatsetter Rent Boats?
As of this writing, you can rent and charter a boat in great locations around the world such as the Bahamas, Portugal, Italy, Antiqua, Australia, Indonesia, Mexico, Barbados, Spain, Belize, British Virgin Islands, Dominican Republic, Cabo, France, Costa Rica, Greece, Grand Cayman, Croatia, Cuba, the Mediterranean, and Turks and Caicos to name a few.
In the United States, you can rent a boat in most cities including Atlanta, Austin, Biloxi, Boston, Charleston, Charlotte, Chicago, Daytona Beach, Detroit, Destin, Key West, Fort Lauderdale, Fort Myers, Fort Walton, Galveston, Gulf Shores, Honolulu, Houston, Jacksonville, Key Largo, Lake Tahoe, Long Island, Los Angeles, Maui, Miami, Minneapolis, Myrtle Beach, Naples, New Orleans, Newport Beach, New York, Panama City, Orange Beach, Pensacola, Philadelphia, Phoenix, Portland, Rhode Island, Sacramento, St. Petersburg, Sale Lake City, San Diego, San Francisco, Santa Cruze, Sarasota, Seattle, South Beach, Tampa, Traverse City, Virginia Beach, Washington, and West Palm Beach.
As they continue to grow, additional locations will be added. Here is a full list of all Boatsetter locations.
Can You Hire a Captain?
YES! You can connect with Boatsetter's captain network for an even better boat rental experience. With a captain at the helm, boating expertise is not required!
---
ADVERTISEMENT
---
Are Boatsetter Rentals Safe?
Boatsetter rentals include world-class insurance available from beginning to end as well as 24-hour on-water support.
Is Boating Experience Required?
NO! As mentioned above, you can connect with Boatsetter's captain network for an even better boat rental experience. With a captain at the helm, boating expertise is not required!
How is Boatsetter's Customer Service?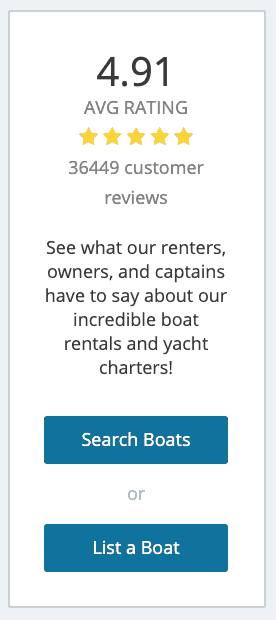 At the time of this writing, there were over 36,000 reviews and a 4.91 average rating out of 5.
Do You Have to Become a Member of Boatsetter?
No, there are no memberships. pristine and privately-owned fleet, 24-hour free cancellation.
Do I Need a Boating License to Rent from Boatsetter?
Boating license requirements will vary from state to state. In order to be covered by Boatsetter insurance, you will need to review your state's rules and regulations to ensure you are operating in accordance with USCG regulations.
To see if your state requires a license and/or certification please visit Boater Exam. Renters are ultimately responsible for making sure they are always following the law.
If you hire a Captain, no experience is required. Even if you have a license, a captain allows you to relax and enjoy your day out on the water!
What are the Boatsetter Renter Requirements?
Be at least 18 years of age [for captained rentals]
Be at least 25 years of age [for bareboat rentals]
Possess a current, valid driver's license (you must have held your current license for at least two consecutive years)
You do not have any criminal convictions on your record in the last 10 years
Not have any major driving violations on your record in the last 3 years
Not have a boat insurance claim in the past 3 years
Possess a mobile phone in your own name that we can verify via text message.
How Long Can You Rent a Boat from Boatsetter?
It's up to the owner you are renting the boat from but these are the typical options:
Half-Day Rental (up to 4 hours)
Full-Day Rental (up to 8 hours)
Multi-Day Rental (24 hours +)
How To I Pay For My Boatsetter Rental?
All reservations and payments are handled online
How Do I Know When I Am Confirmed
Once a Boatsetter booking has been accepted by the owner, you will receive an email & text notification confirming the approved booking. The email will contain a copy of the registration document, including both parties contact information, as well as additional details of the rental.
How Do I Cancel My Boatsetter Booking?
As a Boatsetter renter, you can cancel a booking by going to your Dashboard and then you would click on the View Conversation link. From there you'll see the "Cancel Booking" button located at the bottom right.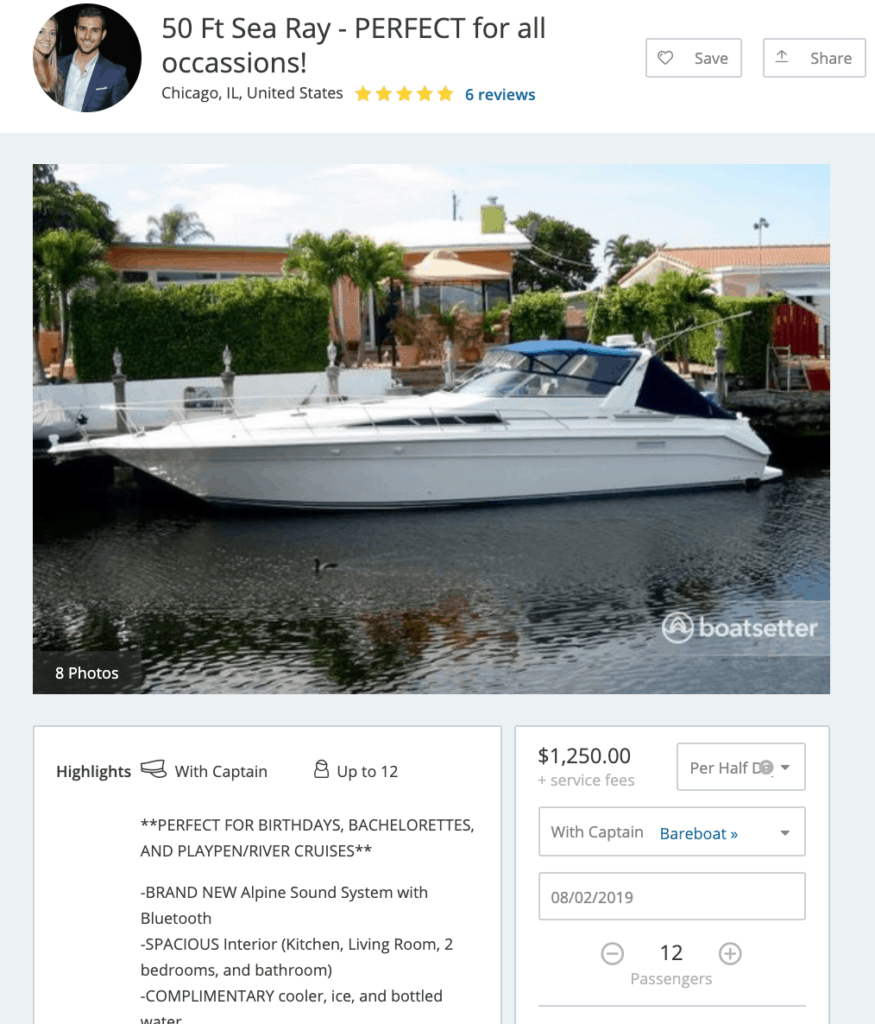 Finding and renting a boat on Boatsetter is as simple as booking a hotel or Airbnb. With strong reviews, renting a boat might be a great addition to your next vacation or weekend getaway.
---
ADVERTISEMENT
---
More from Pontoon Authority