Boat ownership is a great way to enjoy an ocean or lake with family and friends in 2021. Boats are also an expensive luxury and unused time while your boat is moored on the dock can be costly. Our step-by-step guide on how to list your boat on Boatsetter may help you offset some of your expenses.
Similar to a vacation home that you can rent out while you are away, wouldn't it be nice to rent out your boat while you are not using it? Boatsetter, the Airbnb for boats, is your opportunity to rent out your boat while it's not in use. Our step-by-step guide on how to list your boat on Boatsetter might give you a little more peace of mind while your boat is being used by others.
Looking to rent a boat instead?  Read our guide on how to find and rent a boat on Boatsetter here.
Purchasing a new boat that you are hoping to list? You may want to instantly check your boat HIN and Hull ID with our Hull checker here. You can decode your boat HIN identification number here as well.
Creating your Boatsetter account and listing your boat for rent should not take longer than 15 minutes with the boat listing description taking the longest.

1. Make a Boatsetter Account
Account: Making a Boatsetter account is safe and convenient. After a few fields that request information about the boat you are listing, you will be requested to create your credentials and an online profile. They make it easy by allowing you to use Facebook or Google for quick log-in credentials.
2. Set Your Boat Rental Price
After confirming your make and model on Boatsetter you will set your daily price. Do the research and understand comps for your boat and location.
3. Determine if a Captain is Included
Here you will decide if you are going to allow the boat renter to captain the boat or if you are going to provide one. If you provide one, you certify that the person operating your boat is a USCG licensed captain.
Captain Fee: Here you can also decide if the captain fee is included in the boat price or not.
Obviously, this decision depends on the type of boat you have. Lake pontoon and speedboats will more than likely not need a captain. Larger sailboats, boats on the ocean, and boats with specific navigational challenges will require a licensed captain.
4. Choose Your Insurance Policy and Confirm Boatsetter Fee
This is where the peace of mind part comes in! Here, Boatsetter provided two insurance options:
GEICO Marine Insurance: You are required to choose this option unless you have a commercial/charter policy for your boat. GEICO Marine insurance coverage becomes primary only during the rental and doesn't affect your current policy. With the GEICO option, you will also confirm that the Boatsetter fee per rental is 35% of the listing price.
Use Your Commercial/Charter Insurance Policy: You are required to have a current charter/commercial boat policy that insures your boat, passengers, and provides the minimum liability coverage required by law in your area. Boatsetter retains the right to request a copy of your vessel's insurance at any time and failure to provide it in a timely fashion can result in cancellation of bookings, removal of your listing from the site, and termination of your account. By using your own insurance, you will confirm that the Boatsetter fee is 15% of the listing price.
5. Upload Great Photos to Your Boat Listing
Here you begin building your boat rental profile by uploading photos. Photos with at least 960px width display the best on Boatsetter.
6. Create Your Boat Listing Title and Description
Boat Listing Title: Here you can create a descriptive title in 50 characters or less. Play around with this and check out other titles in your area.
Boat Listing Description: Here you have a lot more space to describe the boat, capacity, special features, age, hours, etc. Take your time here and make a great description.
Boat Listing Description Example:
THIS IS A BAREBOAT RENTAL – CAPTAIN IS NOT INCLUDED IN THE PRICING!! LEGAL LIMIT IS NO MORE THAN 12 GUESTS ONBOARD – NO EXCEPTIONS!
This is your most affordable option to get >10 guests out on the water in Chicago this summer!
This Mainship Mediterranean yacht has a huge layout and should be your choice for a day on the water, whether with friends, family or work colleagues. We specialize in bachelorette, birthdays, and corporate events. The boat is equipped with coolers and floating pads to hang out on at the playpen. Prices shown do not include a captain, this is a BAREBOAT CHARTER so you will need to provide a US Coast Guard licensed captain or we can make recommendations of captains that are familiar with our boats.
7. Choose Your Boatsetter Cancellation Policy
Here, Boatsetter gives you 3 cancellation options for your boat.
Flexible: The owner receives the full funds for cancellations made within 24 hours of trip start. This is the most used option.
Moderate: The owner receives the full funds for cancellations made within 2 days of trip start date and 50% of funds for cancellations made within 2-5 days of trip start.
Strict: The owner receives the full funds for cancellations made within 14 days of trip start date and 50% of funds for cancellations made within 14-30 days of trip start.
8. Confirm Your Best Means of Communication
Here, you'll decide how you would like potential renters to communicate with you, phone or email.
9. Confirm Additional Specifications About Your Boat
Here, you'll toggle additional boat information and specs for your Boatsetter listing:
Boat category
Hull material
Number of engines
Engine year
Top speed
Total horsepower
Current insurer
Boat lean info
Boat location
Insurance Approval
10: That's it! You'll receive a Confirmation Email
After your boat is listed, you will be taken to your dashboard with more great Boatsetter options:
That's it. Your Boatsetter profile is complete. You will receive a welcoming email and an offer to speak with a member of their team with any questions.
Set up how you will be paid
View upcoming and future reservations
Send messages to your current and potential renters
Refer an owner
General account settings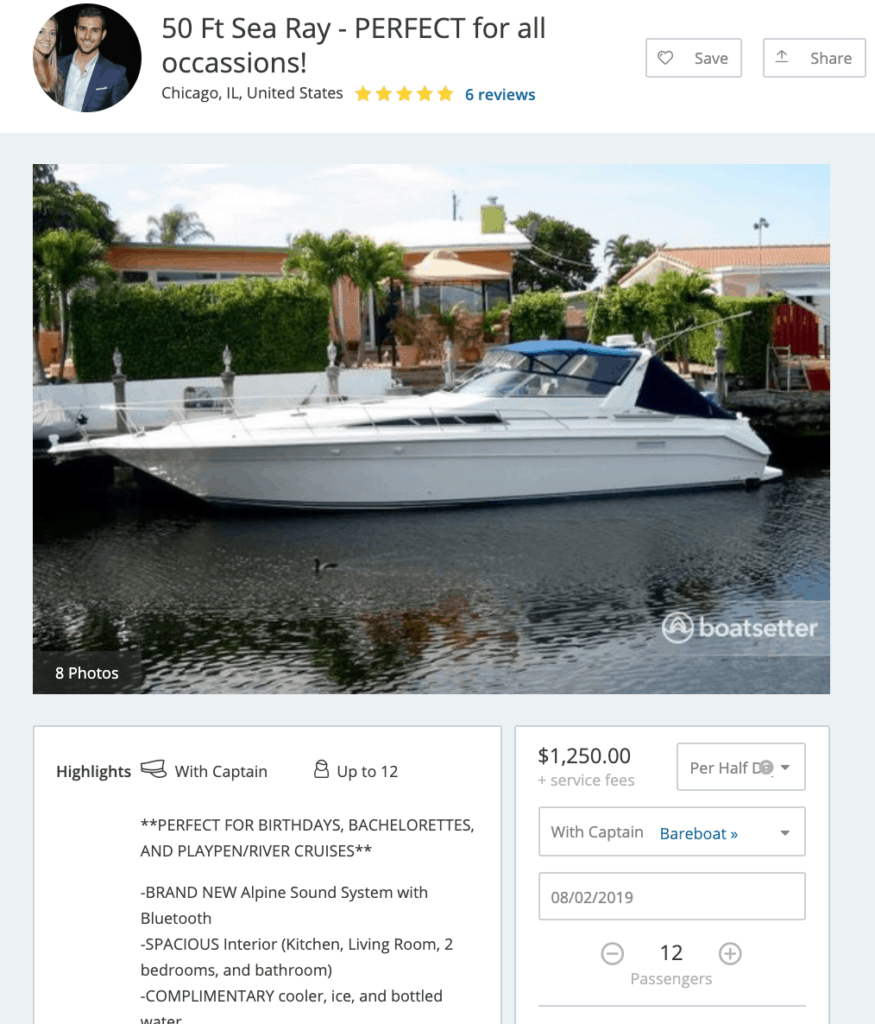 Done and Done! That's How to List Your Boat on Boatsetter.
Check out some reviews.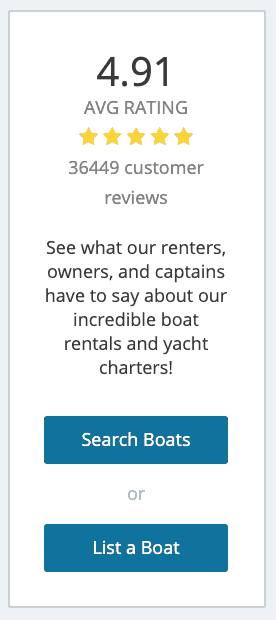 As of this writing, Boatsetter has received over 36,000 reviews with an average of 4.91 out of 5. On their site, you can read all of their reviews for additional detail and perspective.
How Much Does Boatsetter Charge?
As mentioned above, Boatsetter charges a 15% fee if you use your own insurance and a 35% fee if you choose to use their provided insurance by GEICO.
How Much Can You Make on Boatsetter?
The answer to how much you can make on Boatsetter depends on your boat and location. At the end of the day, there is not a limit to how much you can charge. Just keep in mind, Boatsetter charges a 15% or 35% fee depending on if you handle insurance or if they do.
Where does Boatsetter Rent Boats?
Boatsetter rents boats all around the world. You can view a full list of locations here.
More from Pontoon Authority